I don't think I will ever want to get marry
But if I did
I will marry Argentina
USA > Mexico > Peru > Bolivia > Chile > Argentina - 2012 / 13 
Argentina Itinerary - Mendoza - Córdoba- Buenos Aires
I used to say to many people, that I love Brazil, that I will live there one day. As a result, I travelled from the north to the south of America, to the furthest place on earth that is away from home, because of Brazil. And I decided to continue drifting on the road, in search for every single place that I might fall in love with, because of Brazil. But the funny thing is, I didn't choose to make it to Brazil when I could do it. Because my passport is expiring, because the country is really dangerous, and because I already spent all of my budget. It's all bullshit, is all rubbish. Truth is, I was crazy for Argentina, just at the door of Brazil, and we were in love for half a year, accidentally. Yes, everything started because of Brazil, and my whole life changed because of Brazil, but that's not important no more, because I have to marry Argentina.
Argentina has the most beautiful and diverse natural sceneries, with canyons and salt lakes in the Andean north, magnificent waterfall Iguazu in the east, mountain ranges and ski paradises in the Andes west, endless grassland at the central Pampas, and also spectacular glaciers in Patagonia, the southernmost of the world. But I had never visited any of these, because I already seen too many of these previously. Somehow I was so sure I only wanted to read it closely the people and history of this country the first day I arrived here, but not taking lots of tourisy photos front of each scenery. Right now when I look back to write the story it proved that I was right. The free-spirited Argentinian and the twists and turns of their politic and history, was indeed the most profound touches that was given in this amazing journey.
Departed from Santiago in Chile I arrived at Mendoza in Argentina. After having couple glasses of delicious wine in the must-do vineyard visit, I boarded onto a ARS 300 (USD 58) PlusUltra Metrobus to go to Córdoba, my first home in Argentina. To be honest, I never thought of living in Argentina and I had no idea of what Córdoba would be like. The only reason I was there to work for Aldea Hostel was because of the colorful graffiti photos from their Helpx.net profile, cos it looked like as if happiness could easily be found here.
Even I wasn't too sure of my reason being in Argentina during the beginning, somehow I was so sure I could find it here what I might be looking for. My days were full of fantasy, I was happy. My colleagues and I got along pretty well, every afternoon we hanged out at the patio, had a coffee and a small talk, to enjoy every single moment of life. And every evening we began drinking and making plans for the night, until we all got drunk but couldn't wait any longer to go out. The staff room was so so so messy, still I felt totally satisfied with my little bed space on the lower bunk, just because I needed nothing more than that. My colleagues were coming from different parts of the world, each carried a unique story and interesting personality. We had a Brazilian guy who could perform thunderous snoring, a French chick who enjoyed sleeping naked, an American bro who couldn't survive a night without fucking, a bartender who decided to forever stay because of his true love, and many other drifters who just happened to be here.
Only after I landed in Córdoba I got to know that it is the second largest city of the country, a city full of students and universities. However what I found most exciting, is the fact that it is also a night life city that never sleeps, where numerous bars and clubs are opening until sunrise, with endless parties every night. The places to be is around the Neuva Córdoba district inside the city, or the Chateau Carreras district just outside the city, where you could find loads of pretty faces and sexy bodies in and outside the many warehouse-size half-indoor half-outdoor clubbing venues. A club is normally called Discoteca in Spanish, but in Argentina we called it Boliche. Some Boliche they got a stage for the band to play Cumbia, Salsa, Cuarteto or other kinds of Lainto music, and also having a DJ to play the world popular Top 40s. Other Boliche they got Rock, Trance, Drum & Bass, along with many other music genres.
Almost all Argentinians are descendants of Spanish and Italian, that answers why it is so easy here to find pretty faces. People always keep up to the latest trends and so much concerned of their own appearances, beauty to them is so important. Which is good to know cos you don't have to worry too much when you are kissing someone under total darkness inside the club. Not only they love beautiful things but also beautiful words, carrying in their blood they have the most beautiful phrases to praise the world. Whether it is a kiss, a look, a dog, or a bread, they have the ability to appreciate it like the best treat from heaven. Truth is they could be so easily satisfied, that makes everything becoming extra perfect in their life. However some people think that they are the best liar, I guess if they really were they are having a technique several thousand times better than the Chinese and American. And in fact, I really don't mind listening to any lie that is told by a hot chick or a handsome guy.
Most of the hostels that registered on Helpx.net or Workaway.info are asking for around 30 hours of labour in exchange for free beds, and we at Aldea Hostel were normally scheduled for 3-4 days of work shifts. Basically everything we did were all simple tasks, washing dishes, preparing breakfasts, making beds, assisting the reception, and washing more and more dishes. I'm sure you know what is a hostel since it is nothing new to someone who enjoys traveling, however I still have a lot of family and friends who only stay in hotels but never have a clue what a hostel is. Simply speaking, hostel is the cheapest option for lodging. Depending on the size, choices of accommodation ranges from single, double or triple ensuite, to 4 / 6 / 8 / 10 or even 24 beds mixed dorm. In addition, there are public areas like bathroom, kitchen, common room plus different kinds of entertainment or facilities. The kitchen to me is the most important among all, because cooking three meals a day I could cut down lots of budget. Hostel is so popular among backpackers not only because it is cheap, but also it is the best place to make friends and exchange informations on the road. You could easily find someone to keep company as people are usually nice and easy, and it is not uncommon that people are drinking and dancing until sunrise or talking about parallel universes and previous lives only after five minutes they had met for the first time. Unfortunately we are all human, which makes it logical that there is no way to hide our selfishness and ugliness. During the three months I worked in the hostel, I saw it so many times that people were stealing food from the fridge, singing out loud in the middle of the night, leaving tons of garbage in the sink, blocking the passage or invading your bed space with their stuff and... well... you should know your company for the night will never be your forever best friend in life.
Córdoba is never busy, even it is the second largest city. Yes it has flashy parties during the nights, but always it got chill out rhythms during the days. Occasional crowds could only been seen at the city centre around the cathedral and the shopping district but everywhere else is tranquil and relaxed. There isn't too many of attractions inside the city, many of the tourists take it as a transit hub just to spend two or three days here to complete the 3 must-do activities - swimming at the river, partying at a club, skydiving from 3000m above - and then they continue their journey to the east or west or north or south.
Life was simple during my days in Córdoba, other than working, partying and blogging, the only activity left was cooking. I enjoyed going to the market and planning for my every meal, learning to do a mushroom sauce or black pepper sauce, or making a fried rice for my colleagues. I never really had a break since I started knowing myself, always I kept myself occupied achieving my own goals during different stages of my growth. Not until this moment I realize a simple life like this gives me the realist sense of being, because everything I have is exactly everything I need.
Argentina is world famous for its beef and no one would deny it once he tried it. No extra sauce is needed but only a bit of salt after grill already it tastes delicious. It is also very cheap, just around ARS 10 (USD 2) you could get quite a big piece of meat. I don't think the Argentinian cuisine has many variety, but the people has a high demand on its specialities. They enjoy having Asado (a barbecue normally consisted of beef, pork, ribs, sausages, blood sausages, chicken, etc.) with family and friends every weekend, a few pieces of Empanada (grilled stuffed bread) every afternoon, and a Choripan (grilled sausage sandwich) while wandering through a market or before a football match. Look, the Argentinian loves it so much their red meat and grill technique, every time during the barbecue they are like burning down the whole cattle farm with super long sausages and big chunk of beef, that's why it took me at least a week to feel the need of eating meat again after I had my Asado party.
After spending sometime in Argentina I then learnt that it is a country where everyone could stay. You could either prolong your visa for 90 more days when it is expired, or do nothing and stay as long as you wish but pay an one-off fine of ARS 300 (USD 60) at the airport when you finally leave the country. Besides, it is also a country where everyone could work. Truth is many businesses they don't like paying taxes and they just don't pay, it doesn't matter if you had a permit or not they would hire you anyways. And it is not that difficult to find a job if you could speak fluent Spanish. So I thought, okay I wanted to work in the creative fields in each continent, and Buenos Aires the capital is full of creative opportunities, very obviously I should stay in this country because it is the best option for me in South America. Also I thought, okay I already knew the basic of Spanish, why didn't I continue learning it, because it is real cool if one day I could speak Chinese, English and Spanish, the three most widely spoken languages of the world.
Unfortunately I lost my ability to work when I had found a goal to fight for. After having two serious flu, I suffered from the return of my old injuries on my arm and shoulder. The injuries is caused by my intensive use of computer and camera during the past ten years of my career, often I had acupuncture treatments while I was living in Macau. The injuries on return had made me felt pain every minute, I couldn't even cut an onion or wash the dishes. I lost all my interest to do anything, everyday I just sat there and do nothing. I knew I should make use of the time to learn Spanish, but the very slow progress had only given me frustration and physical headache. Also because I had so much time, I started to evaluate the past the present and the future of my life, doubted my faith and denied my possibility to move forward. I mean I really couldn't see any possibility when I couldn't even type. And yes, the happiness was gone, with the darkness that came after. However I never told my family or friends this uneasy situation of mine, because the doctor told me that the only way to recover was to do nothing but wait, so I waited.
During the time I was waiting, I had attended a most beautiful wedding. I remember there was nothing but just love. The bride and the groom were on simple white shirt and dress, with no heavy make up, no shining jewelry, no reception, no timetable, but only a large wok of Paella shared among 20 something of us. The newly weds reminded me the existence of true love, also made me understand the coming of my true love is when one day I eventually know how to love. So I guess I should better keep on learning the definition of love before anything happens. However, I'm still not so interested at having a wedding, specially those kinds of elaborate weddings that is rather like a concert or show. Not only I don't believe there are so many people on earth who will be happy for me with their genuine hearts, also I don't have the ability to truly love so many people. A wedding is a place full of pure love, how could I sit with someone who don't really love me and I don't really love.
After seeing greatest love in its simplest form, I asked myself why am I complicating everything. Since I had already decided to stay in Argentina, and since the doctor had already told me I would recover if I had enough rest, I should really make use of this very good chance to learn Spanish but not to worry of anything else. Besides, I should be happy when I have the chance to learn, I shouldn't suck everything in my head without any break, I should take it slowly, step by step. So, I tailor-made myself my own learning modules and self-studied the language at the hostel. I used iPhone apps like Babel and Busuu to learn vocabularies and sentence structures; read LearnSpanish.com to learn grammar; visited BBC Mundo for reading; watched Argentinian news programmes, telenovelas and movies for listening; and of course talked to people for speaking. Even I saw my little progress everyday, I still had a lot of difficulties communicating with locals because most of the Argentinian not only speak super fast in speed but also has no pause in between. Because I really wanted to move to the capital for my creative opportunities, so the only thing I could do was to keep on learning patiently.
I learnt a lot about the culture, history and politic of Argentina during the time I studied the language. This poor country has a bitter past, continuously it has been suffering from disorders before and after its independence. However most of the Argentinian are optimist beings and they wouldn't show a long face everyday, they laugh at their own chaos and try their best to live happily during crises. Argentina has the largest number of whites among all countries in South America, and nearly all of them are the descendants of the European immigrants. Truth is almost all indigenous were being killed by the Spanish during colonization, because there wasn't any powerful empire but just scattered tribes by the time. Very unluckily the country was under control of several dictators after independence, many people was hurt or killed or forever they disappeared without a reason. When General and Evita Perón came to power, when finally it arrived with someone who really loved the nation and the people, it is not so difficult to understand why the couple received so much supports during their era. And people could hardly forget the very beautiful and articulate Evita, that's why she became the Spiritual Leader of the Nation and stay in people's hearts until forever. But very unfortunately Argentina is never away from misfortunes, continuously it has been suffering from all kinds of crises during the past few decades. 2001 is of course her most difficult time among all, the very severe economic crisis had shaken the entire nation, where looting were seen everywhere, people were surviving through barters, and five presidents had taken office just in two weeks. Well I guess the Argentinian is considered as a nation that is very capable of enduring hardships, but the thing is their genes is rather emotionally driven and not always rationally decisive, somehow they still believe that a political couple could bring them miracle, and this answers why Presidenta Cristina has taken office since the death of her husband, the previous president. I became so interested at Presidenta was all because of a letter she wrote to Ricardo Darín, the very famous actor from Argentina. In a very ridiculous way she explained him his questions concerning about the sources of her excessive wealth. Repeatedly I had read the letter line by line for so many times, also I had talked to so many people who was supporting or against her, in order to understand it deeper the motives and perspectives of this letter. Then suddenly one day I realized I could communicate with locals in Spanish, and also I could type again with my own hands.
So, I booked my ARS 350 (USD 66) bus ticket to Buenos Aires through Plataforma10.com , awaiting to head to the super metropolitan of South America. Though I knew no one and I had no idea about the employment situation in the capital, I wasn't too sure if I could really work as a Traveling Artist as I wished, but I already tried my best in the past three months in preparing for this job hunting trip, it's nothing to regret whether it's a hit or a miss.
I started working at the terrace bar in Art Factory shortly after I arrived at Buenos Aires. Even though I had to work 8 hours per day for 5 days a week, which exceeds the usual working hours for a bed exchange in a hostel, I still thought it was alright because I had to pay my rent anyways if I rented anywhere, and I could still do my job hunt online during my spare time at the hostel. Art Factory is situated in the historic old town of San Telmo, converted from a beautiful colonial building and everywhere is covered with stylish murals, which made me feel like living inside a gallery. Besides, every night it holds a different cultural or party event, ranging from asado barbecue to tango class to live concert and many more. I should really be happy to have the chance to live in such a cool place, however during the very short period of just one month I worked there was actually the hardest time I had on my road, not to mention I was even fired at the end! What? How could I got sacked from the easiest hostel bartender job on earth?! What the fxxk, it's impossible! The truth is I always made stupid mistakes and the truth is I got badly treated by an asshole all the time. The thing is the more I got unfairly treated I made more stupid mistakes. Suddenly I became a total idiot, no matter what I did I did it completely wrong. Also I became very pessimistic, I didn't want to talk because I didn't want to say anything wrong. I was really depressed during that time, I felt so helpless because I got no friends not even contacts. But then later on when even cleaning ladies or passing-by guests came comforting me, telling me they were aware of how the asshole manager badly treated me, I felt like a total relieve because it proved that I wasn't that stupid as it seemed. That's why when he fired me I almost burst out laughing, cos I was finally set free!
Although at Art Factory it holds my most unpleasant memory, still I felt really lucky to had worked there because there I had met my best friends in Argentina. My dear friends are locals from Argentina, they are all very kind, direct and passionate, the kind of people who are real to themselves as well to others, the kind that of people I like the most. They worried so much about me after they knew I was being fired, they then helped me searching for a room on Compartodepto.com and also accompanied me everywhere to do the room hunt, that's why only after three days I lost my job I already moved into my ARS 1500 (USD 296) single room inside a two floor apartment situated just two blocks away from Congreso. My Argentinian friends were indeed my angels, not only they saved me from hell but also brought me to heaven. Everyday they asked me if I was ok or need anything, every weekend they asked me to go out for a drink or party until dawn. And sometimes I would be invited to have dinner at their house, to watch a movie or a match on tele, or just to chill and do nothing but feel the warmth in between. Yes I know the sunlight is specially warm after darkness, and I know I was taught to treasure every touch of warmth I was given, in this Argentinian lesson.
My very good friends are also the players of The Otherness, a rock band from La Patagonia of Argentina. The band invited me to do a promotional clip for them but very unluckily there was series of accidents happened during the shoot day and lots problems came with the rented equipments. We not only had to wait for 4 hours to begin the shoot, what made it even worse was I had to finish the shoot in just 4 hours, so every single shot was only given one precious chance to be filmed. Of course I wasn't happy of the result but the band loved it a lot, also they invited me again for another collaboration, to do a MV for them.
Everything went so well after I got my new room, I was happy and healthy and very lucky too. I got my first freelance only after sending several tens of cold emails, really I couldn't believe the fact that I achieved my goal that soon! The project was a documentary for Excelerate Energy produced by The Thing TV , and I was working as a Script Supervisor in this job. However if the production wasn't in English I wouldn't had the chance to take part because my level of Spanish was still very far away from professional standard. Me and the team were working on a huge vessel that store and regas and deliver natural gas during the shoot days, and I had learnt a lot about natural resources from this interesting job.
After I accomplished my priority mission I finally had the mood to wander around, to enjoy the very beautiful capital which is said to be more Europe than Europe. Buenos Aires is named as Paris of the South, it has a lot of buildings in European styles, especially in neoclassical design. Especially if you were on Avenido de Mayo, walking from Casa Rosada to Congreso, you would have mistaken yourself being in Europe for no doubt. But Buenos Aires is one of the biggest city in Latino America, not many places could be easily reached just by walk. One example is Avenida 9 de Julio, the widest avenue in the world, it has nine lanes flanked on each direction and numerous traffic lights in between them, that people has to patiently wait for the changes of the traffic lights every time they cross the road. Although in Buenos Aires there is subte (metro), but it only has several lines that provides limited access, so in most cases people search from Mapa Interactivo de Buenos Aires to look for information to take colectivo (bus) to reach every corners of the city.
My favorite highlight in Buenos Aires is definitely Cementerio de la Recoleta, located in the Recoleta neighborhood. Not everyone could be buried here but only the remains of the city's elite, rich, famous and influential people. Every single tomb is a piece of unique art piece, with delicate work and infinite creativity. This amazingly beautiful cemetery is in fact an open air exhibition hall, that displays a lot more precious artworks than many other museums.
My another favorite is Librería El Atenso Grand Splendid, also located in Recoleta. This glamorous bookstore is converted from a hundred years old theatre, it brings you back to the beginning of last century once you entered. All the original balconies, painted ceiling, ornate carvings and stage curtains were well preserved, while the stage was converted to a cafe, where you could enjoy a lazy afternoon having coffee and reading books.
Café Tortoni located at Avenida de Mayo is also a hundred years old, it is the oldest cafe in the capital city. Writers, poets and musicians enjoyed gathering here during the old days, that's why the sculptures of some famous artists are still being displayed inside the cafe. This place is really like a movie set, everything inside are like vintage props, the chair the ceiling or the cutlery, are all telling you a story from the last century.
San Telmo is the where me and my friends always hanged around, it has a quiet pace during the days but a vibrant mood during the nights. In this neighborhood we have Mercado de San Telmo for local food, Calle Defensa for trendy stuff, and the very famous antique market and tango dances around Plaza Dorrego every Sunday. Every weekend me and my friends enjoyed spending time in the bar district, where we got drunk from one bar to another and another and another, until we finished greeting all the familiar faces in and outside each venues.
La Boca is a slum neighborhood, where no one dares to go after dark to see gunfires on live. The area is also famous for Caminito, a real short street that is built with colorful tin houses and displayed with caricatured sculptures of famous people from Argentina; as well Boca Junior, the most popular football team of the country which Maradona used to play for; and of course for being the birthplace of tango. However I don't like Caminito too much myself, it is overloaded with too many restaurants and souvenir shops that makes it just like a tourisy theme park.
Puerto Madero was a port warehouse area, but since the 90s it was converted into a luxurious commercial district. Modern steel and glass buildings are seen everywhere, in contrast with the largest green park of the city, which is also situated here. Reserva Ecológica de Buenos Aires is the best place to do running, I really enjoyed exercising there while breathing the very fresh air from the nature.
Buenos Aires got a lot of art venues but they are all far from each others and not many exhibitions or events are being held in each venue. To be honest I was a quite disappointed by that because Buenos Aires is said to be the creative hub of South America. Centro Cultural Borges, Centro Cultural Konex, Centro Cultural Recoleta, Centro Cultural Ricardo Rojas and MALBA are some of the most famous venues, to me I think MALBA got the most inspiring artworks, Konex holds the most exciting event, and Borges is the most easily accessible, which is situated inside the most glamorous Galerias Pacifico where you can enjoy visiting two highlights in one afternoon.
Even though the venues didn't inspire me much, a local artist had given me a lot of surprises in compensation. Carlos Regazzoni is a very original painter and sculpture artist who makes use of garbages and abandoned materials to create all of his artworks. His workshop located at the Retiro neighborhood was converted from an abandoned train carriage, in and outside the carriage are displayed with tons of his imaginative pieces in different sizes. Also there is a restaurant inside the workshop, where Carlos Regazzoni becomes the chef during the nights to prepare you a very delicious menu.
La Bomba de Tiempo has been holding a percussion party every Monday night at Centro Cultural Konex for six years, together with guest talents they improvise the most unique and unpredictable music that makes this event became a must on the Buenos Aires to do list, attracting music lovers from all over the world to attend. Although many people they drink and smoke weed inside the venue, but trust me the incredible performance of La Bomba de Tiempo could definitely move your body and soul even if you had no weed no alcohol. When the show was finished we found the legendary weed cake that is sold outside the venue, and I bought two for the price of ARS 30 (USD 6). Honestly I was kinda skeptical when I put that two pieces of really sweet stuff into my mouth, but after we changed venue I could still feel my heavy head and puffy eyes then I knew that legend is totally real!
Same as many other South American countries, in Argentina it is not illegal to consume a limited amount of marijuana if the person is not selling it. Even free journals for weed consumers and growers are widely distributed. Apart from soft drugs, hard drugs are also very popular in this country. Rumors saying that the taxi drivers along Avenido de Mayo are also cocaine dealers, but not many locals know about this secret because they only sell to foreigners.
Buenos Aires got the craziest night life, numerous venues are opening from Monday to Sunday until sunrise, continued by countless after-parties from after dawn to after dusk, until everything loops again in the dark. The city is full of beautiful faces, glamorous places together with great parties and drugs, the very crucial factors that has been attracting Gringos (English speaking white foreigners in Latinos' eyes) to come here to study, to work, to travel or to settle. Not to mention the speedy rise of Argentinian Peso from USD 1 = ARS 10 in the black market, unbelievably the double of the official exchange rate, that explains another crucial factor why Gringos love to stay. Many Gringos had said to me that Buenos Aires is where they most want to live other than their home city, because it is an European city in South America, a pretty and charming wonderland full of passions and free-spirits. Well, Buenos Aires may look more Europe than Europe, but only superficially. You wouldn't get too much of a European feeling if you looked at it carefully. Whether the people or the things, they only give you an Argentinian feeling. Tell me, have you ever seen in any European city that almost all historical buildings were being vandalized so badly? That almost every door and every wall were being messed by horrible paints? Let me tell you here, Argentina is famous for its disorders and chaos.
Argentinians are famous for being late, for sure they are later than any nation in the world. They won't leave for clubbing until 2 am, even after noon they are still dancing until they are drunk again and again. They never feel hungry before 10 pm, even during midnight they might be still cooking for a meal called dinner as what they think. There is no bus schedule so people just wait and wait. And always long queues at the banks so people just wait and wait again. I have no problem with all of these, I can wait. But gosh the delays and delays and delays of the MV production that me and my good friend The Otherness had already started planning a month ago had made me decided to quit the job. Even though we were on a real tight schedule, I was still having hope and believing I could finish the production during the two weeks before my I left Argentina, and for that reason I even rejected other opportunities after I had my Nike event freelance. But very unfortunately there were far too much delays and it was impossible for me to finish the shoot, it was a shame. Even so, the band still wanted to thank me for my efforts, and they treated me the most wonderful gift I ever wanted, that is the ticket to see Boca Junior match at their stadium! Cos no one should ever leave Argentina without seeing Boca Junior!! Dale Boca Dale Bo!!!
Argentinians are free-spirited and passionate beings who feels grateful and content at all time, never they hide their emotions but to express every single moment of sadness and happiness vividly on their faces. Such a strict forward character could easily give you a best friend or best lover but hardly a best teammate or best spouse. All because they always listen to their hearts instead of their brains, nothing much is rationally analyzed nor carefully organized, people love following their instincts that eventually they wait until an hour after the last minute to decide whether they should start everything again or delay it until forever. To me I think these very typical characters of the Argentinian people are some of the crucial factors why this country could never scape from its never ending torture of political crises. Regarding Presidenta Cristina, what I couldn't stand the most, is the replay and replay and replay of her political campaigns on TV Pública, her public channel. On each of the ending shots of these brainwashing campaigns we were forced to see a very big TINA followed by ARGENTINA! Forcing everyone to believe CRISTINA is ARGENTINA what the fxxk? The government was doing worse and worse and the people were suffering more and more during my short stay of six months here. Rapid inflation, crazy black market exchange rate, as well all kinds of economical and social problems were happening everyday. Just two days before I left the country the Presidenta was drawn into a big scandal of a multi-million dollars money laundering, a protest in one of the biggest scales in recent years was taken place nationally, not only there was a million protesters in the capital, many Argentinian were demonstrating overseas. It's real sad to see Argentina suffering from continuous crises, my only wish is too see TINA not to fxxk up of herself but to take very good care of ARGENTINA!
(Photo source from http://internacional.elpais.com)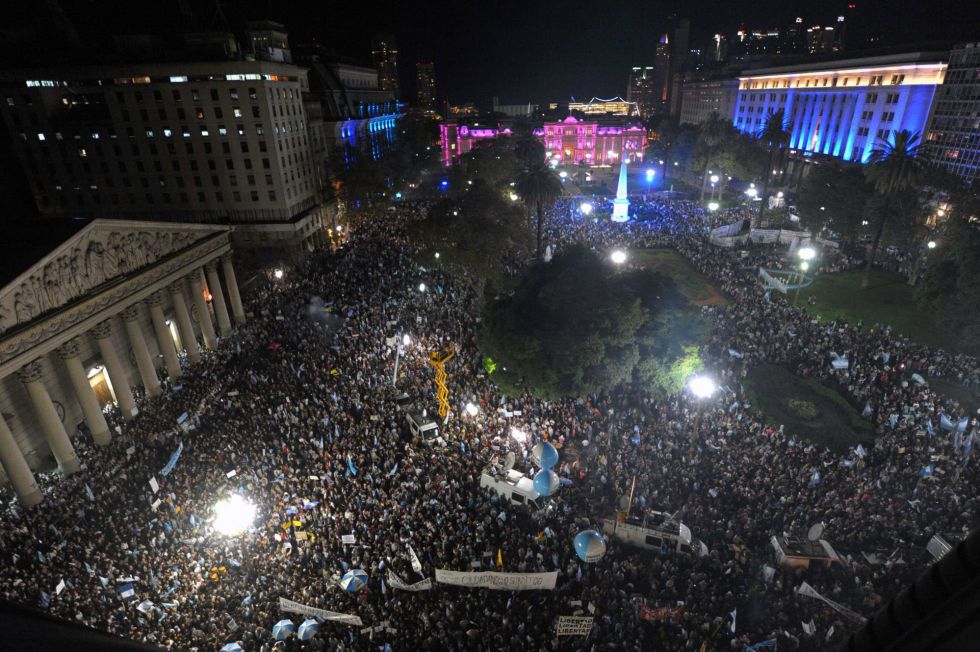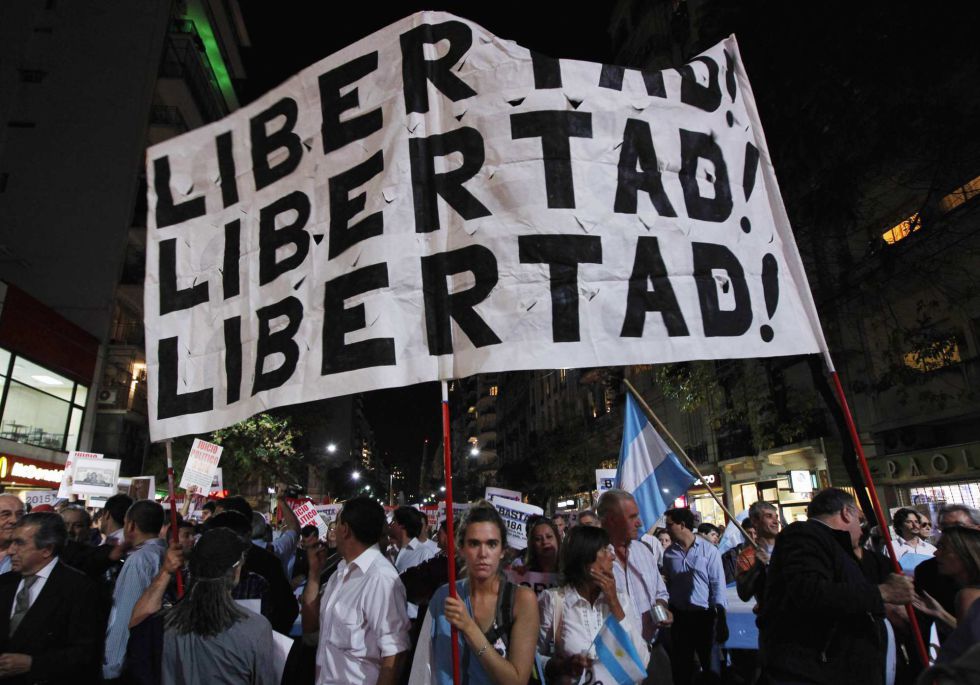 Many Argentinian got European passports, and many of them move to Europe to get away from the continuous chaos in their home country. Coincidently me and my very good friends are also heading to this direction to find our perfect places where we chase our perfect dreams. Argentina, I loved you, but all because I did really loved you I knew you are not the one to marry. Right this is the best place for travel and for fun, however to me it is not so easy in terms of social or working conditions. Well, I know it's time to go, I know, to leave this charming place and continue drifting, until I find my utopia on the road.
---
---
海闊天空 Beyond The Boundless Sky
一個女生流浪半個地球的夢想故事
Story of a girl who's travelling half the world
YouTube|Instagram|Facebook